| | |
| --- | --- |
| Getting Started | Inserting a microSD Card |
When a commercially available microSD card is inserted, recordings can still be made to the card when the remaining recording time on the hard disk (HDD) runs out.

Press the power button for more than 2 seconds to turn off this unit.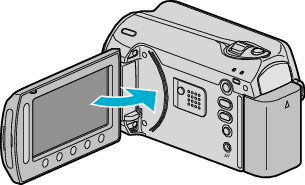 Open the card slot cover.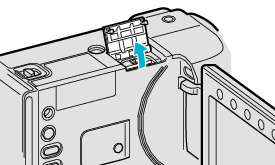 Insert a microSD card.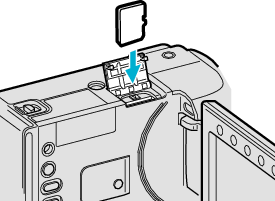 Insert with the metal contact area facing outward.
Warning
Make sure not to insert the card in the wrong direction.
It may cause damage to the unit and card.
Turn off the power of this unit before inserting or removing a card.
Do not touch the metal contact area when inserting the card.
Memo
To record to the card, it is necessary to adjust media settings.
When no card is available, set media settings to "HDD" for recording.
To use cards that have been used on other devices, it is necessary to format (initialize) the card using "FORMAT SD CARD" from media settings.