| | |
| --- | --- |
| Getting Started | Tripod Mounting |
This camcorder can be mounted on a tripod. This is useful for preventing camera shake and recording from the same position.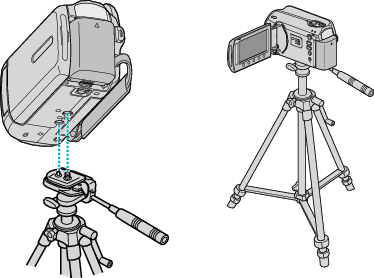 To prevent this unit from falling off, check the tripod mounting screw holes and positioning holes on the unit carefully before mounting, and turn the screws until they are fastened firmly.
Caution
To prevent injuries or damages which may result if this unit falls off, read the instruction manual of the tripod to be used and make sure that it is securely attached.
Memo
It is recommended to use the tripod when recording in conditions prone to camera shake (such as in dark places or when zoomed to the telephoto end).
Set "DIS" to (OFF) when using a tripod for recording.