| | |
| --- | --- |
| Recording | Manual Recording |
You can adjust settings, such as brightness and shutter speed, by using the manual mode.
Manual recording can be set for both video and still image modes.

Select video or still image mode.

The video or still image mode icon appears.

Select the Manual recording mode.

The mode changes between Auto and Manual with every touch.

Start recording.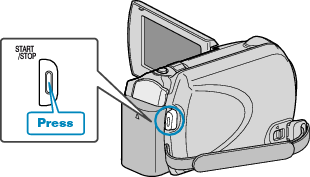 Press again to stop.
Memo
The manual settings are displayed only in the manual mode.
Manual Recording Menu
The following items can be set.
Name
Description

SCENE SELECT

Recordings that suit the shooting conditions can be performed easily.

FOCUS

Use manual focus if the subject is not focused automatically.

FOCUS ASSIST

Use this for adjusting the focus more precisely.

BRIGHTNESS ADJUST

Overall brightness on the screen can be adjusted.

Use this when recording in a dark or bright location.

WHITE BALANCE

Overall color on the screen can be adjusted.

Use this when the color on the screen appears differently from the actual color.

BACKLIGHT COMP.

Corrects the image when the subject appears dark due to backlight.

Use this when shooting against the light.

METERING AREA/ TYPE

Brightness of a specified area can be set as the standard.

EFFECT

Images that look like old photographs or black-and-white movies can be taken.

TELE MACRO

Use this to take close-up (macro) shots of the subject.