Copying to Mac Computer
Copying to Mac Computer
Copy the files to a Mac computer using the following method.
Connect the USB cable and the AC adapter.
Turn on the power after connecting the AC adapter to the DC connector, and plugging in the power.
Connect this unit and computer by using the provided USB cable.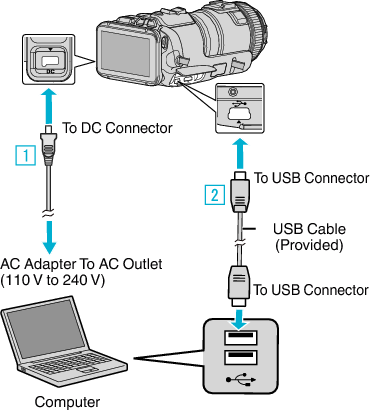 Tap "CONNECT TO PC".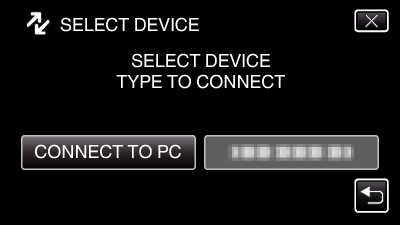 Tap "PLAYBACK ON PC".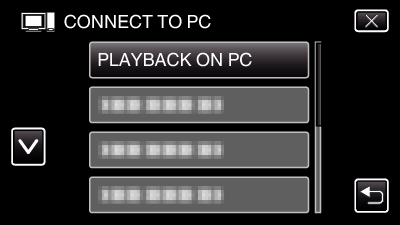 Tap

to exit the menu.
Tap

to return to the previous screen.
The following screen is displayed after the camera operation is completed.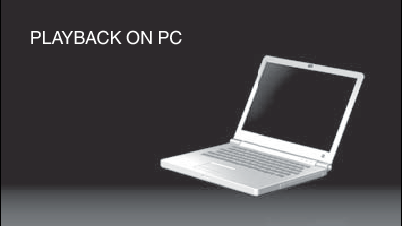 The "JVCCAM_SD" icon appears on the desktop.
Copy the files to a computer.
The subsequent operations are to be performed on the Mac computer.
Final Cut Pro is a recommended software for editing.
When the camera and PC are connected by an USB cable, recorded media are read-only.
To edit/view the files, use a software that supports iFrame (video)/ AVCHD (video)/JPEG (still image) files.
When removing this unit from the computer, drag & drop the "JVCCAM_SD" icon on the desktop to the trash bin.
Final Cut Pro is a registered trademark of Apple Inc. in the United States and other countries.