Inserting an SD Card
Inserting an SD Card
Insert a commercially available SD card before recording.
Open the LCD monitor.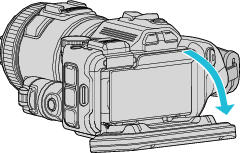 Open the battery cover.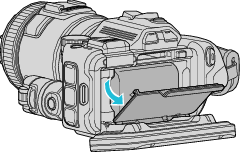 Insert an SD card.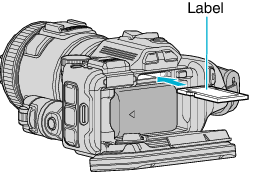 Close the battery cover, and then close the LCD monitor.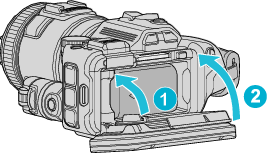 Make sure not to insert the SD card in the wrong direction.
It may cause damage to the unit and SD card.
Turn off the power of this unit before inserting or removing an SD card.
Do not touch the metal contact area when inserting the SD card.
Both videos and still images can be recorded on one SD card. It is recommended to confirm the video operation of the SD card before usage.
To record to the SD card, it is necessary to perform media settings.
To use SD cards that have been used on other devices, it is necessary to format (initialize) the SD card using "FORMAT SD CARD" from media settings.
Removing the Card
Push the SD card inward once, then pull it out straight.