Names of Parts
Front

Focus Ring
Light/Flash
Turn on the light when shooting in dark places.
Set the flash as necessary when capturing still images.
Shooting Dial
(Power) Button
ACCESS (Access) Lamp
Lights up/blinks during recording or playback.
Do not remove the battery pack, AC adapter, or SD card.
POWER/CHARGE (Power/Charge) Lamp
Blinks: Charging in progress
Goes out: Charging finished
Time Control Button
Exposure Button
Adjustment Dial
SET Button
Focus Button
Microphone Connector
Connects to the microphone (sold separately).
AV Connector/Headphone Connector
Connects to the AV connector of a TV, etc.
Connects to the headphone (sold separately).
DC Connector
Connects to an AC adapter to charge the battery.
Rear

USB Connector
Connects to computer using a USB cable.
HDMI Mini Connector
Connects to a TV using an HDMI mini cable.
Playback/Recording Button
/ (Video/Still Image) Button
LCD Monitor
SNAPSHOT (Still Image Recording) Button
Zoom/Volume Lever
During shooting: Adjusts the shooting range.
During playback (index screen): Moves to the next or previous page.
During video playback: Adjusts the volume.
Shoe (for connecting an external microphone which is sold separately)
Stereo Microphone
Do not cover the microphone with your fingers during video recording.
START/STOP (Video Recording) Button
Starts/stops video recording.
Grip Belt
Pass your hand through the grip belt to hold this unit firmly.
Bottom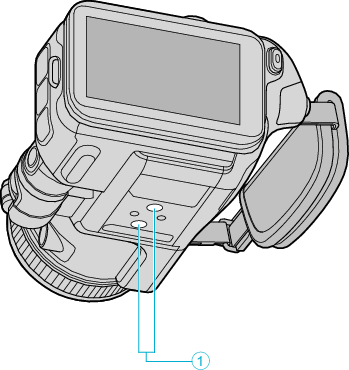 Interior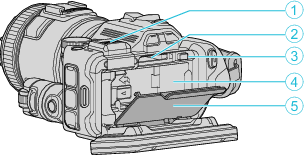 Viewfinder Terminal Cover
Remove the cover when attaching a viewfinder.
SD Card Slot
Insert an optional SD card.
Battery Lock Lever
Battery Insert
Battery Cover