Sending Still Images via E-mail upon Detection of Face or Movement (DETECT/MAIL)
Sending Still Images via E-mail upon Detection of Face or Movement ( DETECT/MAIL )
A still image is automatically captured and sent via e-mail when faces or movements are detected by the camera.

Videos are recorded in AVCHD mode. If recording is set to MP4/MOV mode, it is switched to AVCHD mode.
Size of the still images shot by DETECT/MAIL is 640 x 360.
"VIDEO QUALITY" is fixed to "XP".
Operation via connection to a smartphone (or computer) using "INDOOR MONITORING"/"OUTDOOR MONITORING" may be performed even during detection standby.
When the camera is connected to a smartphone (or computer), "DETECT/MAIL SETTING" will be temporarily unavailable.
You can set to record videos on this unit automatically during detection.
To prevent too many e-mails from being sent in case of detections occurring frequently, you can set the interval of e-mail delivery.
What You Need
Wireless LAN router (use a product that has a Wi-Fi certification logo)
Account for sending e-mails (Supports SMTP. E-mail services that is only accessible from the web cannot be used.)
Settings Required in Advance
To send e-mails, the following settings are required in advance.
*The above settings are not necessary if they have already been set for other functions.
1 Registering an access point
2 Setting the account for sending e-mails
3. Registering the recipient's e-mail address for notification mails (up to 8 addresses)
Operation Method
Tap "MENU".
Set the camera to the recording mode.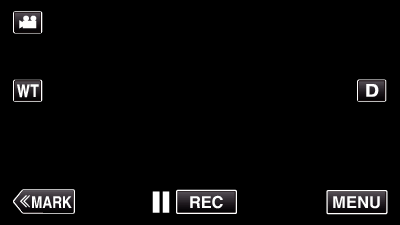 Tap the "Wi-Fi" ( ) icon.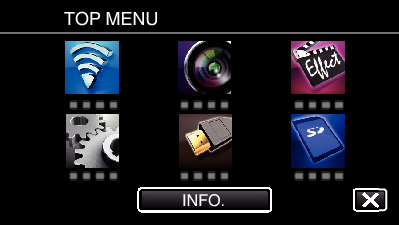 Tap "DETECT/MAIL" ( ).
Tap "DETECT/MAIL ATTN.".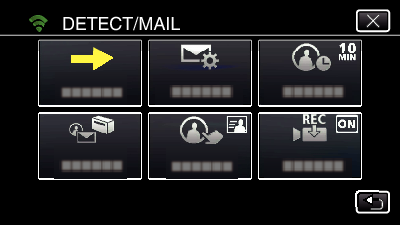 Select "DETECT/MAIL ATTN.", then tap .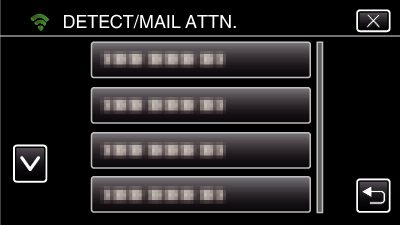 To display the

icon, tap the e-mail address.
To cancel the e-mail address, press the icon one more time.
Up to 8 e-mail addresses can be selected.
Tap "START" ( ).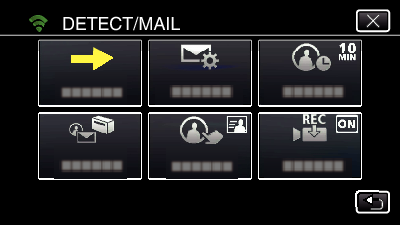 Start making a connection.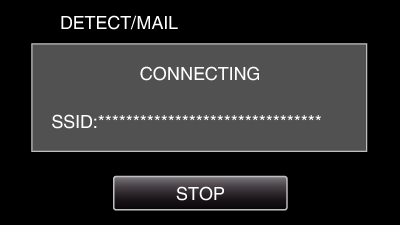 DETECT/MAIL detection standby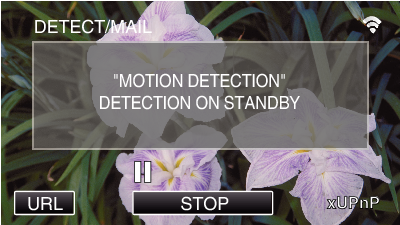 Detection is suspended for the first 5 seconds.
DETECT/MAIL detection in progress (an e-mail is automatically sent out after detection is completed)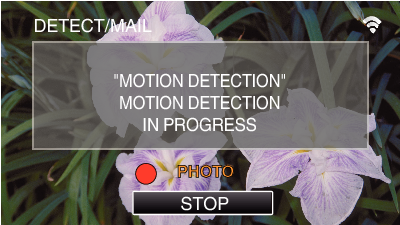 The "PHOTO" icon appears on the screen for about 2 seconds upon detection.
Images are captured automatically when moving subjects or human faces appear on the camera's screen. (The PHOTO icon appears on the screen upon detection.)
The captured still images will be sent via e-mail to the selected recipients.
Detection suspended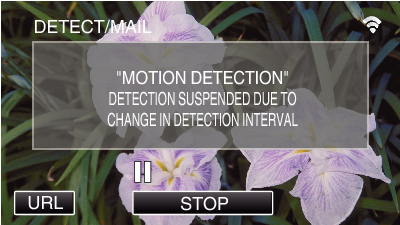 Until the next detection is made, detection is suspended for the pre-set length of time.
"DETECTION INTERVAL" can be selected from 15 seconds, 1 minute, 3 minutes, 10 minutes, 30 minutes and 60 minutes.
This function is not designed for disaster or crime prevention.
To prevent the situation of forgetting to turn off the power, this unit will turn off automatically after 10 days of continuous usage.
While on standby for notification mails, the focus is fixed. Perform the camera settings first, then enable the notification mails.
Focus may not be set correctly if the notification mails start before camera settings are made. In this case, disable the notification mails temporarily, then enable it again.
Be careful not to cause too much sending of e-mails. Depending on the internet provider that provides the e-mail service, the e-mails may be marked as spam or the usage limited may be exceeded.
Be sure to check the terms of the internet provider in advance to find out if there are any restrictions on the number or size of e-mails that can be sent.
When setting another person as the recipient, be sure to obtain his/her consent in advance.
If you reply to the received e-mail by using this unit, the receiver can not check your replied e-mail by using this unit.
Check the e-mails sent by this unit from computer, etc.
JVC will not be responsible for any trouble that occurs upon the sending of mails.