DIGEST PLAYBACK
DIGEST PLAYBACK
You can play back a digest of recorded videos (Digest Playback).
This is useful for checking the content of videos quickly.
(For videos recorded in AVCHD format)
Press the button to select the playback mode.

Check if the playback mode is

.
If the mode is

still image, tap

on the playback screen to display the mode switching screen.
Tap

to switch the mode to video. (You can also use the

/

button on this unit.)
Tap "MENU".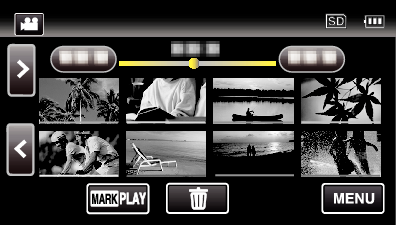 Tap "PLAYBACK SETTING".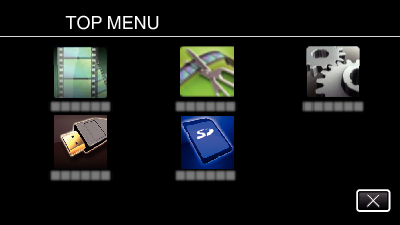 Tap "DIGEST PLAYBACK".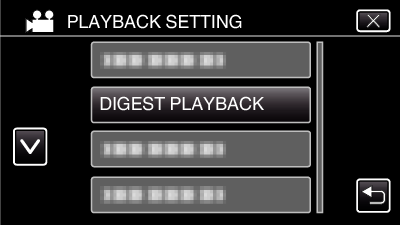 Tap to select a date for Digest Playback.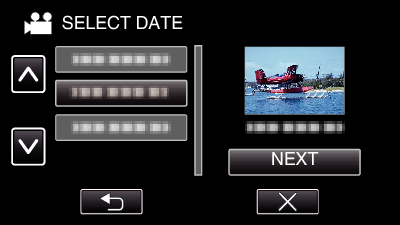 After selecting a date, tap "NEXT".
When "ALL" is tapped, Digest Playback will be performed for all the dates.
Tap

to exit the menu.
Tap

to return to the previous screen.
Select the Digest Playback time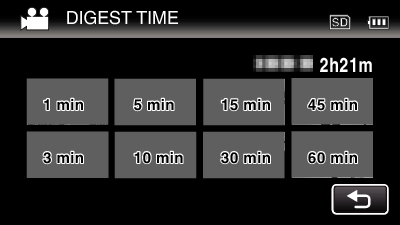 The time display of Digest Playback varies according to the recording time.
When it takes time (more than 2 seconds) for "DIGEST PLAYBACK" to start after selecting Digest Playback time, a progress status will be displayed.
The Digest Playback time is only a guide.
Digest Playback starts.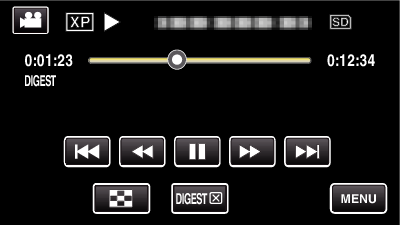 Tap

to pause.
Tap

to return to the index screen.
Tap "DIGEST

" to return to the normal playback screen.
Operations During Video Playback
Digest playback stops automatically, or display the next screen by tapping "MENU".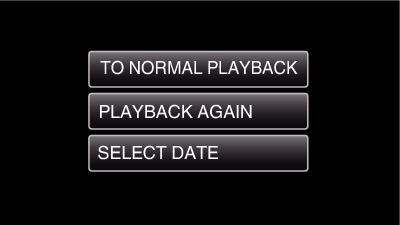 TO NORMAL PLAYBACK: start normal playback.
PLAYBACK AGAIN: start the digest playback again.
SELECT DATE: return to step 5.