Game Score Settings
Game Score Settings
Enter the recording methods of the game score, as well as the team information.
Common for Android and iOS
Tap .
Tap "GAME SCORE SETTING".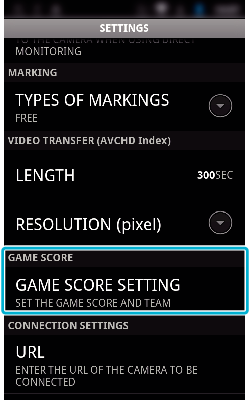 Tap the desired setting.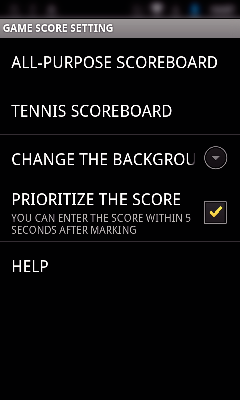 Item

Details

Set "TEAM LIST" which uses "ALL-PURPOSE SCOREBOARD".

Set "SCORE BUTTON SETTING" for "AP (NO SET COUNT)".

Set the game rule of tennis, such as "PLAYER LIST" and "NUMBER OF SETS".

Set the background color of the game score screen.

The score can be entered within 5 seconds after the mark operation by selecting the checkbox. However, the marked position is changed when the score is registered.
When the team name and player name are registered, the "\" mark entered by the smartphone is displayed as "\" (backslash) on this camera.